COPYRIGHT NOTICE

For warranty issues please make sure you purchased products that are manufactured by Orange Electronic.
As Orange Electronic is not responsible for any merchandise purchased from non authorized 3rd party
sellers nor does Orange Electronic warranty any merchandise that was not purchased
from a authorized seller. To find an authorized seller please click the link below.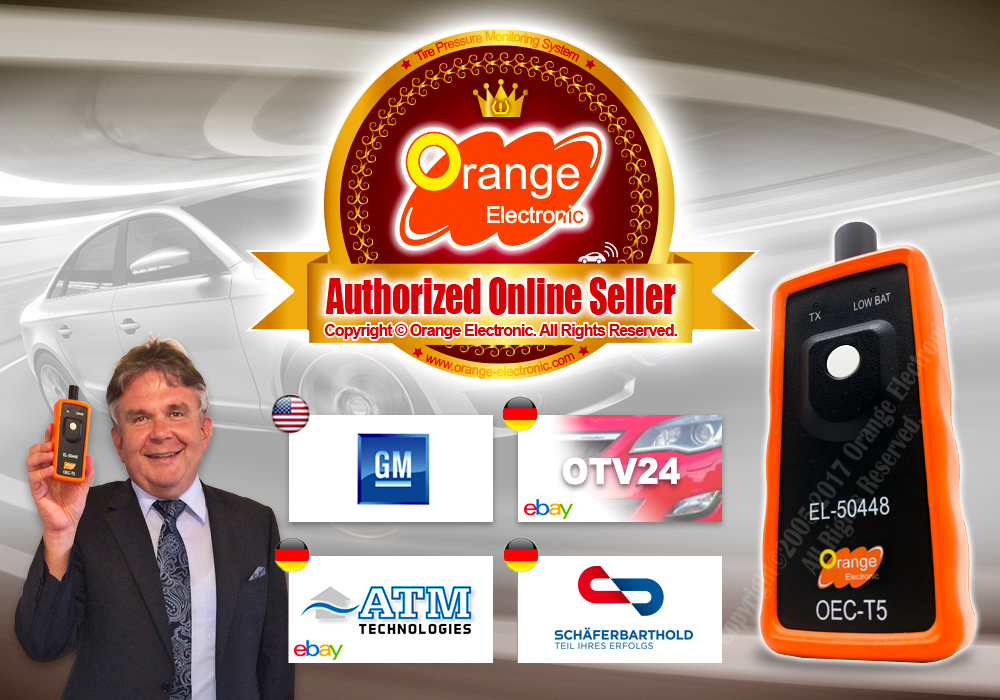 USA


Name of the company
GM (General Motors)

Website

Orange TPMS Re-Learn Tool EL-50448 for GM Vehicles

GM official authorizes and selling on official Website.
Purchase EL-50448 on GM website or Orange authorized agents for warranty.
https://gmtoolsandequipment.com/en-US/Pages/ItemDetail.aspx?SKU=EL-50448

NOTICE:
GM & Orange will not guarantee tool function or offer service
for tool is not manufactured by Orange.

Germany


Name of the company
ATM Technologies GmbH

Company address

Bahnhofstr. 37, 29336 Nienhagen

Contact Information & Email
info@atmparts.de
Amazon Store account number
AEPIQXRE2ZA5I
Amazon Store seller name
ATMTech
eBay username

a868parts

eBay ID
E411062307007-EUR​
Name of the company
OTV24

Company address

Bloherfelder Str. 230b, 26129 Oldenburg

Contact Information & Email (Ebay or Amazon-Shop-Kontonummer)
teilevertrieb@kabelmail.de
ebay Shop
http://stores.ebay.de/otv24
Name of the company
Schäferbarthold GmbH

Company address

Erbeweg 2-12 | 32457 Porta Westfalica | Deutschland

Website
http://www.schaeferbarthold.de
Contact
+49 (0)571-502161 | FAX +49 (0)571-50266161